Get up to $64 off your first trip when you join me on Airbnb.
If you're new to Airbnb, you can sign up in the next 30 days to claim your offer.
Up to $52 off a place to stay The more you spend, the more you'll save $12 off an experience Experience booking of $50 or more
Check out your offer details or read the terms.
Canva Print Coupon
Create a powerful first impression and start the right conversations with
professionally printed custom business cards.
Get 15% off, plus free shipping on business cards using Canva Print. Enjoy 15% off on Canva Business cards when you apply the coupon "B2BIZ15" upon checkout*
Order here
.
If you want to start an Etsy shop, I have a referral link so you can get FREE 40 listings and in
return, I will also get 40 FREE listings. One listing costs $0.20 and will last for four months or until the item is sold.
Are you into design, DIY, and craft? Then sign up for an account in
Creative Fabrica
. They give weekly freebies that you can enjoy with personal and commercial licenses.
Join here
.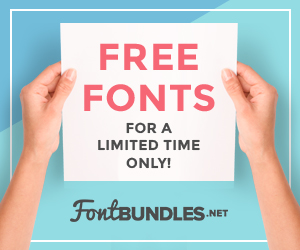 REG PRICE: $3207 DEAL PRICE: $29 SAVE: 99%
A new week is ushering in the launch of our latest exciting bundle – The Treasure Trove of Fonts for Typography Lovers. Designed for stunning titles and high-impact looks, these unique fonts will add a touch of distinction to your projects. From leading type foundries and designers like Los Andes, Adam Ladd, and Latinotype, we can all but guarantee that you will waste no time unpacking this gorgeous set of fonts. Jump right in and give this collection a spin, which is now available for just $29 (99% off the original price) for a limited time only
This post contains some affiliate link/s. If you decide to make a purchase, I will earn a small commission at no additional cost to you. Thank you for your support.